Photography Exhibit New Perspectives: Dominican Republic Commences Dominican Independence Celebrations
Mexico City, 2/27/2014


The New Perspectives:Dominican Republic Photo Exhibition opened at Plaza Loreto, in Mexico City's Federal District on February 27, 2014. The event, organized by Global Foundation for Democracy and Development (GFDD) and Fundación Global Democracia y Desarrollo (FUNGLODE), in collaboration with the Dominican Embassy in Mexico, honored Dominican Independence Day celebrations.
Over 300 guests attended the inaugural reception, hosted by the Dominican Ambassador to Mexico, Fernando A. Pérez Memén, to commemorate the special occasion for all Dominicans. Also present were dignitaries from other foreign diplomatic missions, such as Honduras, Cuba, Palestine, USA, India, Costa Rica, Ecuador, as well as other partners and associates from various private, public and non-governmental sectors, e.g;  Mexican businessmen, congressmen, senators, delegates, international organizations, educational institutions, resident Dominicans and general audiences.
The ambiance was joyful as invitees mingled with other guests, surrounded by a stunning backdrop of unique aerial views of the Dominican from a selection of the country's 33 provinces. The photos, which included vistas from  Samaná, La Altagracia, Santiago Rodríguez, Santo Domingo, Perdenales, Barahona, and Monte Cristi, were thoughtfully produced by Dominican-based photographer Anne Casale. Guests who passed through the Exhibit, were pleasantly surprised to learn more about the lesser known facets of the country and many went on to express a strong interest in visiting the island in the near future.
FUNGLODE Educational Programs Coordinator, Catherine Florentino gave an introduction, and expressed appreciation to everyone for coming. She went on to explain that the exhibit aims were to promote the magnificent natural scenery of the Dominican Republic and to raise awareness for its culture and environmental heritage for both Dominicans and foreign visitors alike.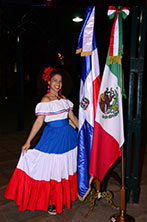 The breathtaking images that make up the Photo Exhibit were lifted from a richly-illustrated photo album of the same name, published in 2007 by an interdisciplinary team led by Natasha Despotovic, Project Director and Editor-in-Chief. Copies of  the book were raffled off to the crowd, courtesy of the Foundations.
GFDD and FUNGLODE, are nonprofit organizations registered in the U.S. and the Dominican Republic, respectively, with the purpose of contributing to the social, economic and democratic development of the Dominican Republic. Both organizations were created, and are inspired by the vision of President Leonel Fernández, whom also serves as president of each institution.
The New Perspectives: Dominican Republic Photo Exhibit will remains on display in Loreto Plazo until the end of March and is free and open to the public.
Related Link:
http://www.newperspectivesdominicanrepublic.com