Students Transfixed by Baseball Documentary at the GFDD's Dominican Get-Togethers in the Keystone State
Allentown, PA, February 28, 2013


A dynamic assembly of students, teachers and Allentown residents alike, enjoyed a powerful and inspirational documentary about baseball at William Allen High School's 200-seat Auditorium, as part of GFDD and FUNGLODE's popular Dominican get-togethers program.
Margaret Hayward, Communications and Outreach Manager representing Global Foundation for Democracy and Development, opened the event by thanking School Principle, Shannon Mayfield, and Fe Candelario, WAHS Parent Liaison for their kind collaboration in bringing this Dominican get-together to fruition. She also gave a note of  thanks to the Dominican Consulate in New York for its support under the leadership of  Felix Antonio Martinez and longtime staffer, Monica Lockhart who herself lives in the area.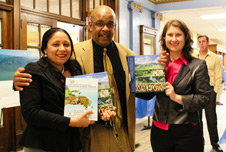 Ms. Hayward went on to say that one of the roles of GFDD, which was created by the former president of the Dominican Republic, Dr. Leonel Fernandez, is to promote Dominican values, culture and heritage to make it enticing to Dominican audiences and those worldwide. Through our get-together series, she remarked, which aim to spur a better understanding of the richness and diversity of Dominican Culture, we chose choose? interesting subjects of relevance to the Dominican and Latino community to get them more involved in the ongoing events.
The public school, which is located in an area known for its Dominican diaspora, is 62% students of color, said the principle and former baseball coach Mr. Mayfield. Of that percentage, 42% are of Hispanic descent. He emphasized the importance of having cultural events of this nature to raise more awareness and appreciation amongst students.
The audience was enthralled by the documentary The Republic of Baseball: The Dominican Giants of the American Game, directed and produced by Dan Matt and Rob Ruck. It is the story of the epic 1962 World Series as told by talented Dominican stars of baseball, Felipe Alou, Juan Marichal, Manny Mota and Ozzie Virgil. The film depicts the challenges of dictatorship, poverty, and later racism, which was overcome by Dominican baseball legends with grace and aplomb. The brave and talented players all went on to be great ambassadors for both the sport and country, always appreciating and never forgetting their Latin roots.
After the sensational and thought provoking film the audience enthusiastically received GFDD's special guest, former professional baseball player, Joendy Brown, who hails from San Pedro de Macoris – a famous breeding ground for major league players. He played for Texas Rangers in the minor leagues, and said that he was directly influenced by the actions of those Dominican Giants who helped pave the way for him and his peers.
Joendy talked about his time as a Short-stop, but cautioned the young audience that education is the key to all. He lamented not listening to his parents when they told him to focus on his studies.  His career sadly ended when he sustained a knee injury and he was left  with an option to reinvent himself.
Fortunately for Joendy, a combination of his baseball and new-found acting talents were spotted by American directors Ryan Fleck, and Anna Boden who cast him in a movie about the trials and tribulations of a Dominican baseball player contracted to the Major Leagues. That film is the heavy-hitting 2010 movie Sugar, and the role as Marcus helped propel Joendy into a steady acting career.
In the summation of his inspirational speech, Joendy urged the youth in attendance not to waste their natural talent and hone their skills. He continued that through sheer hard work one can achieve whatever they want in life.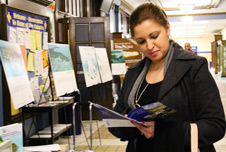 In conjunction with the Dominican get-together, GFDD was also proud to present its glorious traveling photo exhibit showing 15 outstanding aerial images capturing the incredible diversity and landscapes of one of the richest and most ecologically diverse countries in the Caribbean. The exhibition forms an integral part of GFDD's overall goal to promote the Dominican Republic, disseminate information about the country, and foster an understanding and appreciation of its history, culture, ecology and contemporary life.
The Dominican Get-togethers series was created to promote a better understanding of the richness and diversity of Dominican culture; to enjoy and celebrate its prominent figures and upcoming talents; and to create a forum for reflection and discussion of topics relevant to the Dominican community in the U.S. and at home.
Related Links:
www.dominicangettogethers.org
www.newperspectivesdominicanrepublic.com
allentownsd.org/aln